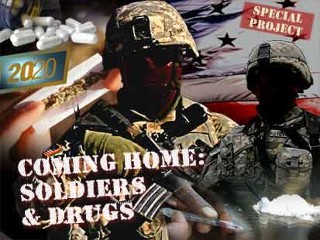 Jon Marshall's News Gems website writes:
"ABC News' investigative team, led by Brian Ross, worked with six graduate journalism students to discover whether troops returning home after serving in Iraq are facing the same battles with drug addiction as soldiers did when they came back from Vietnam. For their series, "Coming Home: Soldiers and Drugs," the students traveled across the country from Fort Carson in Colorado to Fort Bragg in North Carolina to examine the accuracy of the Army's assurances that drug abuse among ex-combatants isn't growing. Their findings:

Many of this country's bravest men and women who volunteered to defend America in a time of war have come home wounded -- physically and mentally -- and are turning to illicit drugs as they adjust to normal life, according to soldiers, health experts and advocates." Source.

The five programs are available online
here
.